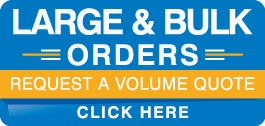 Our Shipping Policy
At SchoolOutlet we make the shipping and delivery of our products quick and hassle free. We can ship product to the 48 continental United States, and we can make arrangements to ship product overseas and to Alaska and Canada by calling us toll free at (877) 398-6449.
Shipping and handling costs are calculated at checkout. Our system will work to find you the lowest shipping rates. If the freight costs seems high or incorrect, please feel free to email or call us so we can quote you a better freight rate. You can reach us at (877) 398-6449 or email at Kyle@Schooloutlet.com
Small orders may ship parcel via FedEx or UPS Ground.

Larger orders ship via LTL and may require a freight quote.

A select few items ship free.
Delivery Options
Here's how you can expect your order to arrive:
For small shipments - Fed Ex/UPS will deliver cartons off of their trucks and into your building.
For large shipments - A truck will deliver your merchandise using standard tailgate delivery if your building has a dock. If your building does not have an accessible loading dock, please let us know in the shipping instructions.
Additional charges may apply for liftgate delivery or inside delivery. Liftgate delivery is recommended for heavy and larger shipments. A liftgate can be used to lower merchandise off the truck to the ground.
If you think you'll need further assistance, for an additional charge you can ask for inside delivery during checkout. The truck driver will help you unload the merchandise from the truck into your building.
Damages & Return Policy
Most of the items you order through SchoolOutet are returnable, and we have a damages policy in place to protect our customers. Note that certain terms and conditions apply which are set by the manufacturer's we work with. 
CHECK FOR FREIGHT DAMAGE IMMEDIATELY: Take the time to inspect all merchandise when it arrives. If the shipment is incorrect or you find excessive damage, you should refuse the shipment and give us a call immediately toll free at (888) 513-6035. Make sure you report any damages or problems with merchandise within 5 days of receipt, and SchoolOutlet will replace the damaged order. After this 5-day period we cannot be held responsible for damaged packages.
If you decide to return an item, you can do so within 30 days of receipt. SchoolOutlet does not accept returns after 30 days. Returns will be subject to restock fees, which vary by manufacturer. Any freight costs to return the product to the manufacturer is the responsibility of the customer and not SchoolOutlet.
Custom orders are non-returnable. SchoolOutlet offers free color samples for most of our products - request them prior to ordering to make sure you're satisfied.
All items must be returned in the original unopened carton, unassembled and unused. Opened merchandise will likely not be accepted by our manufacturers.
PPE RETURN POLICY: Please note that per U.S. government regulations, all PPE items are not returnable (PPE: Personal Protective Equipment for Covid-19) which includes things such as masks, sneeze guards, etc.